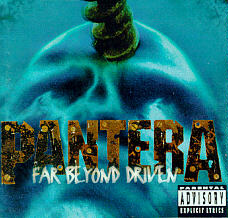 .
This CD is a bone crunching, thrash laden, metal slamming foray into the world of Pantera! This is my favorite CD, and if you like raw metal, it may be your favorite too. I like every cut except for "Good Friends And A Bottle of Pills". 11 rippin' songs out of 12 makes this a REALLY good CD to have. I saw Pantera live, and they were excellent! Cowboys From Hell, and Vulgar Display of Power are also great CD's from Pantera.
.



.
Try this link for more Pantera!
.
Unofficial Pantera Page
.



.
Back