....................................................Vocals.. ........Drums ......Guitar.......Bass....../..Turntables
..


Jimmy Pop and Lupus got it together with a real band (and DJ Q-Ball) to bring you Bloodhound Gang's first serious attempt at humor. So get funky, suburban white boy, because the gang is "comin' round like Mr. Furley" and they "got more hits than a dealer at a Dead show."



The history of the gang
Fifteen seconds into "One Fierce Beer Coaster"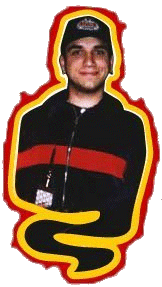 it becomes clear Bloodhound Gang is for real this time. Real guitars are being played; a real drummer is bashing cymbals. A new sound, a whole different slant from these suburban honkeys from Philadelphia, awaits. But those easily offended or with weak stomachs would be wise to beware - the sound may be new, but the band still boasts the same ol' Jimmy Pop Ali: vocalist / songwriter / sampler / engineer / producer/ title-hog.
.
Jimmy fronts one of the seediest, most sordid collection of '80s TV fanatics and ass munches on the planet: Lupus, the one-armed, nolegged axman (actually, he's got all his limbs, but you'd never know it by his playing); bassman Evil Jared and drummer Spanky G, supplying rhythm by slapping their various appendages against strings and skins in pure un-synchronicity; and DJ Q-Ball, who has a cool name, two turntables and no clue how to use either properly. It takes Jimmy's complete inability to organize sound and his hopeless attempts at lyrics to make Bloodhound Gang the funniest thing on the market.
.
Drawing thoroughly on his vast repository of "too much TV" knowledge, Jimmy leads the Gang on their 12-song "Beer Coaster" like a guy who really misses the lame-ass '80s. He waxes poetic with the help of such diverse cultural references as Boss Hogg, Pavlov's dog, 2000 Flushes, Al Pacino's nose, Seafood Shanty, Kleenex, Malcolm X, Stryper, the chick from M*A*S*H*, Judas Priest backwards-tracking, Han Solo and Chewie, Barry White and Frank Black, and anti-Christ Emanuel Lewis (and that's just the first three songs). His bandmates supply music that is diverse, to say the least. Sampling and live instruments combine to create elevator music on one track, punk rock on another, quasi-children's tuneage here, absolute phat hip-hop there, and so on.
.
"We started playing as a joke," says Jimmy. "We were a Depeche Mode cover band. The guys from God Lives Underwater - they're real artsy and kind of know what they're doing - taught us how to use MIDI equipment. Basically, they showed us how to use the samplers, and we showed them how to light their own farts. That was the trade."
.
That was in '93. The band produced a couple of demos, which eventually led to the 1994 EP "Dingleberry Haze" (Cheese Factory) and 1995's "Use Your Fingers" (Columbia).
After the release of "Use Your Fingers", the original Bloodhound Gang disbanded, leaving Jimmy and Lupus, who'd manned the "wheels of steel" on "Fingers", alone to meet tour obligations. So in the fall of 1995 Jimmy called on Evil Jared, a friend from Temple University, to play bass. After the tour, Jimmy and Jared continued to play together, Jared eventually bringing in Spanky G, his colleague in Vaginal Blood Farts, to play drums with the resurgent Bloodhound Gang. Lupus agreed to play guitar for the band's new incarnation. DJ Q-Ball joined the crew after being recommended by his cousin, who happened to take the Gang's passport photos prior to a festival gig in Paris.
"Use Your Fingers" was a rap album, "almost all samples," according to Jimmy. He says "One Fierce Beer Coaster" is the band's first album to feature live instruments. The Gang worked with engineer / digital editor / mixer Rich Gavalis on the album from mid-February to mid-April 1996 at Royersford, Penn.'s subterranean Dome Sound studios. "I had Q-Ball, Spanky and Jared lay down their parts," says Jimmy, "and then Lupus and I worked on the record for two months. When I was recording lyrics, Lupus was making our dinner. When he was recording his guitar tracks, I was looking at nudie pictures on the Internet. Actually, poop pictures."
.

"One Fierce Beer Coaster" was released on Republic Records in September 1996. It came to the attention of Geffen Records A&R reps Wendy Goldstein and Cali DeWitt, suspects Jimmy, because of its super-ugly cover art. Around that time, DJ Larry Mack, of Tempe, Ariz., station KUPD, spun the cut "Fire Water Burn." Seattle modern rock station KNDD followed suit and immediately got healthy phone requests for the track. It later went to No. 1 on the "Furious Five at Nine" at Los Angeles station KROQ. By then "Fire Water Burn" was bum-rushing radio playlists all over the country, and Geffen had signed the band, working out an agreement with Republic to re-release "One Fierce Beer Coaster" (minus a hidden track and the not-for-everyone love song "Yellow Fever," which Jimmy says will appear as a 7-inch). The Geffen disc bowed Dec. 3, 1996.
.
As for Bloodhound Gang's live act, Jimmy says: "We throw darts at Jared's back onstage. Then he'll drink two big Slushees and throw 'em up and drink 'em again. Then we'll play another song and he throws 'em up and drinks 'em again. He's eaten mice and snakes and rats onstage, and finches and goldfish." The band - who've played with Garbage, the Presidents of the United States of America, Ash, Naughty by Nature, Skee-Lo, Korn, the Pharcyde, the Wallflowers and Stabbing Westward, to name a few - expect to tour widely come 1997 and,if Jimmy has his way, release another album.
But even more important than Bloodhound Gang's mission to bring the entertainment is their sworn oath to offend all. Jimmy - who names The Howard Stern Show as a key influence - explains, "We try to hurt *everyone's* feelings; it makes us feel better about ourselves."


Other sites for Bloodhound Gang